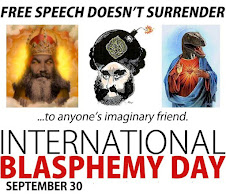 It's International Blasphemy Day again and you know what that means! Time to use your right to free speech to blaspheme!
Last year I became a bit ranty
, and this year I don't actually have much to say.
So, who else worships the Flying Spaghetti Monster? Any other
Pastafarians
out there? Let's all go eat spaghetti today! RAMEN!
P1. The Flying Spaghetti Monster is a being which has every perfection.
P2. Existence is a perfection.
P3. Therefore, the Flying Spaghetti Monster exists.