For the past few years, I've wanted to do something special to commemorate
International Blasphemy Day
,
September 30
.
Blasphemy is defined as
: (
noun
)
1 a: the act of insulting or showing contempt or lack of reverence for God b: the act of claiming the attributes of deity
2: irreverence toward something considered sacred or inviolable
Your beliefs are not our beliefs
; therefore,
our actions are not blasphemy
, because we are not showing contempt or lack of reverence toward our sacred beliefs. Just because you think something is sacred, that doesn't mean it matters any more than a hill of beans to us. Maybe if you acted like civilized human beings, we could work something out. Instead you take any excuse to murder and destroy - how is that solving your problems?
Take your example from these people, instead...
Anyway, I did not set out to make this a serious, ranty post. I actually wanted to do something fun, but things in the world are serious right now, and I could not address the idea of blasphemy without a nod to that reality.
Anyway, on to the more fun aspects! How about some fun - in a fight, who would win - Jesus or Godzilla?
Go here and find out!
(It's a game, so time will be wasted)
Or how about this classic South Park episode, where Jesus goes up against Satan in a boxing match?
Finally, how about some Cthulhu? My idea of blasphemy? Writers who don't check their work before they publish: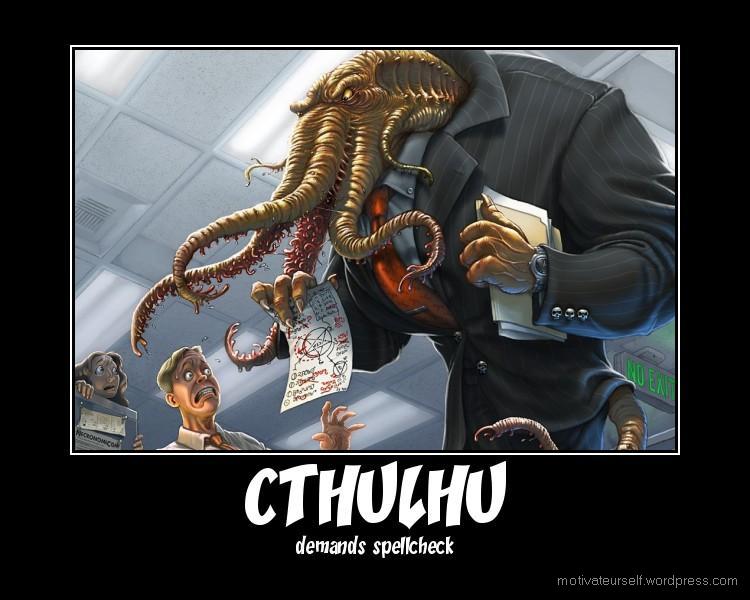 Finally, for a sobering example of what might happen if the Fundamentalists take over the USA, check out Randy Attwood's
Rabbletown: Life in These United Christian States of Holy America
(
my review here
), which is available as ebook or as a paperback through Amazon's Print-On-Demand service. I think everyone in the world should read this book, but that's just my opinion (but I'm sticking to it).
I've listed extensive quotes from this book on the Goodreads page
, and I think these rules are ones by which more people should live.
So, Happy Blasphemy Day - Go Ye Forth and Blaspheme. What is the point of free speech if we don't use to offend someone today?