Blood and Magick
by
James R. Tuck
My rating:
4 of 5 stars
Book Info
:
Genre
: Urban Fantasy
Reading Level
: Adult
Recommended for
: fans of darker, action-oriented, male-centric Urban Fantasy
Trigger Warnings
: mass murder in various, gory ways, children in danger, torture
My Thoughts
: So, this is the latest of the Deacon Chalk books. I'm sure there will be more, but I have no information about when or what form they will take.
I keep forgetting to mention how badly I lust over Deacon's car. I had a Ford Maverick in high school, which is essentially the same car as a Mercury Comet, and I loved that thing.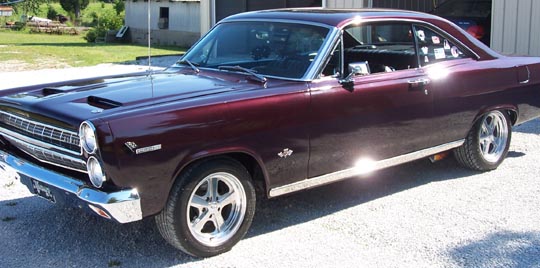 I've always loved hot rods and high-octane cars, so it only makes sense.
I spent a lot of this book screaming, "No! NONONONONONO!!!" I mean, it was terrible what happened... but I can't tell you. It's full of things that could be spoilers. I'm interested to see where things go with O.C.I.D.; it was a really interesting twist.
Speaking generally about the series, since this is the last one (for now: more on the way), I was less-than-impressed with the editing. I would recommend the author review my blog posts
Department of Redundancies Department
and
We Gotta get Out of this Habit
(both posted on Now is Gone in April, 2013 if you're reading this on a site where formatting is not allowed and the links aren't there as a result). The abuse of "got" and "get" as well as redundancies was often very irritating.
However, overall I have enjoyed reading these books. It's awesome to have high action and low romance for a change, although—like Joss Whedon—James R. Tuck is not afraid to kill off characters, which some people find very upsetting. Still, if you've been wanting some urban fantasy that isn't clogged with sex and romance, this is the one for you. There is some sex, but it's not all over the place.
So, fans of male-centric, action-oriented urban fantasy should definitely check out the Deacon Chalk series. You can step into it wherever you want, since Tuck is very good about giving small segments of background information as the stories go along, but I'm sure if you start you'll want to read the whole thing. I know I'll be looking for new books in the series.
Series Information
:
Blood and Magick
is Book d in the Deacon Chalk series
Book .5
:
That Thing at the Zoo
,
review linked here
where formatting allowed.
Book 1
:
Blood and Bullets
,
review linked here
where formatting allowed.
Book 1.5
:
Spider's Lullaby
,
review linked here
where formatting allowed
Book 2
:
Blood and Silver
,
review linked here
where formatting allowed.
Book 2.5
:
Circus of Blood
,
review linked here
where formatting allowed
Disclosure
: While I was accepted for this with NetGalley, I actually purchased my own copy. All opinions are my own.
Synopsis
: Taking out hellish creatures—not a problem. Armed with blessed silver hollow-points and the ability to manipulate magick, he's ready for anything—except betrayal he never saw coming…
Deacon Chalk knows the biggest danger in fighting monsters is becoming one. Just another day at the office for your friendly neighborhood occult bounty hunter. If keeping three helpless were-dog children safe means battling a malevolent trio of witches by any means necessary, so be it. If that means partnering with a ruthless government agent to stay one step ahead of the allies and friends he must now suspect, he's not going to cry about it. The only way Deacon can save humans and shape-shifters alike is to embrace a power beyond his imagining, putting his team at stake—and his soul on the line…
View all my reviews