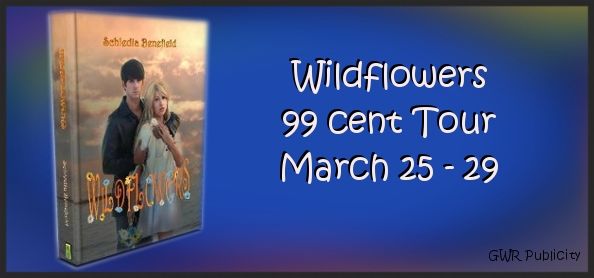 Today I'd like to welcome author Schledia Benefield, who wrote
Wildflowers
, to Now is Gone. Part of the reason for this tour is to let folks know that the e-book edition of Wildflowers is currently on sale for only 99 cents through the end of the month (normally $4.99, so a great deal!). If this book sounds like something you would enjoy, be sure to go and grab your copy before the end of the month by
following this link
! There will be more info about the book, the synopsis, and links after the guest post.
Now, without further ado, here is Schledia Benefield to discuss outlining.
To Outline or Not to Outline
Thank you, Katy, for inviting me to your blog.
To outline or not to outline? That is the question. All authors have a different method to the madness of their writing, but for me the answer is to outline. It helps me to keep the madness and chaos of my mind in an organized fashion. I've never been diagnosed ADD, but my middle son has been, and he reminds me of myself. My mind wanders all the time. I have to try to live by a schedule, or I will forget the things that need to be done. I could attribute that to having five children, but if I'm honest, I've been that way since childhood.
There are many times that my mind wanders and jumps ahead of the game in my writing plans, so I always try to write down ideas for the future. Sometimes a sentence or even an entire paragraph for the ending will come to me. I don't want to forget it, so I make notes, but at the same time I don't want to get off on a wrong tangent, so I'm careful not to actually write that chapter; I simply take notes. Sometimes when I get to that chapter, I'm able to add it as is, but there are times when I have to alter it because of changes in the flow as I've written.
I create character maps with detailed descriptions of my characters, their personalities, their birthdates (if necessary), and any other information about them that is important for me to remember as I write, and I'm always faithful to go back to my character map in order to make sure that I'm not messing anything up as I write.
I make a chapter outline with titles and a brief overview of what is to take place within that chapter. I'm never so rigid that I do not allow changes to my outline though. Chapters are always added in as I write. Wildflowers started off with twenty chapters in its outline, but the final draft included twenty-five chapters.
From my chapter outline, I create a separate timeline. It's important to make sure that you don't mess up your timeline when writing, so it is a vital part of an outline in my book.
Some authors can sit down and start typing away without anything to guide them; I applaud them. It is something that I cannot do!
For those interested in romance, the kindle version of Wildflowers is on sale this week from March 25-31 for 99 cents!
Thanks again, Katy, for inviting me to share.
And thanks for dropping by! Now, here's a bit more information about the book, and how you can contact Schledia Benefield if you wish, as well as links to the rest of the tour.
Summary:
Have you ever feared what may be hiding deep within you?
Darkness often skulks in the blood of unsuspecting victims, but Aster McGrath is acutely aware of the violence coursing through his veins. After all, he is the son of a murderer, and everyone in the town of Bayville, Mississippi says he will end up just like his father.
When Susan Blackman moves into town, Aster has already embraced his brutal nature, but her gentle spirit draws him in and slowly melts the icy exterior of his heart. Taming his savagery, she professes her love, but will the good within him be able to overcome the evil lurking deep inside? Or will the fiend break free of its fetters and seek blood?
About the Author:
Schledia Benefield is the author of
Plain Jane
,
Pretty Boy
, and her recently released novel,
Wildflowers
. She attended Mississippi Gulf Coast Community College but chose to be a stay-at-home mom for many years. She devoted eight years of her life to working with youth as a youth minister and has been invited to speak in a rehab to hurting and wounded women, giving them hope for a better future. She was the Keynote Speaker for Division 14 of the Key Club International's divisional rally.
Born and raised on the Mississippi Gulf Coast, Schledia holds a sense of pride in her southern heritage. She presently lives in Big Point, Mississippi with her husband and four of her five children. On top of writing novels, she writes youth and children's church curriculum, and she works as a substitute teacher at East Central Middle School. In her spare time, she reads, sews, and spends time with her family.
Social Media Links:
http://schlediabenefield.blogspot.com/
https://twitter.com/Schledia
Buy Link:
Amazon (ebook & paperback)
http://amzn.to/WPszMD
ebook 99 cents March 25 - 31 *regularly $4.99
Tour Schedule
March 25
[YA] Between the Lines
http://yabetweenthelines.blogspot.com/
Author Guest Post
Ohana Day Academy
http://ohana-school.blogspot.com.au/
Review
The avid Reader
www.tarmyblospot.blogspot.com
Book Promo
Brooke Blogs
http://www.brookeblogs.com
Character Guest Post
March 26
Rayborn Rambles
http://Raybornrambles.blogspot.com
Review & Book Promo
March 27
Now is Gone
http://katysozaeva.blogspot.com/
Author Guest Post
Lubs Book Chatter
lubsbookchatter.blogspot.com
Author Guest Post
March 28
Library Girl Reads & Reviews
http://librarygirlreads.blogspot.com
Sab The Book Eater
http://sabthebookeater.blogspot.com/
Top Ten Favorite Books EVER
March 29
Pieces of Whimsy
http://piecesofwhimsy.blogspot.com.au/
Author Interviw
Curling Up With A Good Book
http://curling-up-with-a-good-book.blogspot.com/
Top Ten list
Alli's World
http://mrscaptkirk51.blogspot.com/
Character Guest Post